Hyundai A-League Season 2014/15 was a record breaker and season 2015/16 promises to be another for the history books.
If you do not receive your membership card before Sunday 11 October, please print out your email confirmation and visit one of the "Membership" windows at all of the box offices at Westpac Stadium well before Sunday's kick off time of 7pm.  
Are you ready to Bring Your Game?
Season Tickets and Memberships for the 2015/16 Season are on sale NOW!
2015/16 Membership packs are available for pick up from Football Central, Top of Tory Complex (opposite Exodus Health & Fitness Club), or from the first two games of the Phoenix season at the Merchandise Booth, Westpac Stadium (11 October, 24 October).
CLICK HERE TO GET YOUR 2015/16 MEMBERSHIP NOW.
When you are a supporter of the Wellington Phoenix Football Club, you are part of something special – New Zealand's only professional football club.
Bring your game to season 2015/16: join the Club as a season ticket holder or member and show your support in the best possible way.
Whether you want to bring it in every way possible or from afar, we've got a range of packages and a membership option just for you.
Choose from the Club's most inclusive package: the Premium Club Membership; see every game with a full Season ticket; pick and choose how you watch with a Nix Six flexi-pass; or get all the info, but can't get to many games with a Club Membership. With the most parochial atmosphere in New Zealand sport, being a member of Wellington Phoenix FC has a lot to offer.
Be part of something special and get in behind your team as they strive for Hyundai A-League glory – purchase your Wellington Phoenix FC membership today and bring your game!
What membership suits me?
PRICES :
Choose the column the best describes your situation. Foundation Memberships are retained - follow the appropriate link when you click through to purchase.
Renewing Season Ticket holder and Members, choose:
"Renewal before (pre) 2014/15" if you were a member before 2014/15 season (ie. you were a member in-  or before- 2013/14).
"Renewal New Member in 2014/15" if 2014/15 was the first year you were a member/season ticket holder.
"New Member 2015/16" if 2015/16 will be your first year as a member/season ticket holder.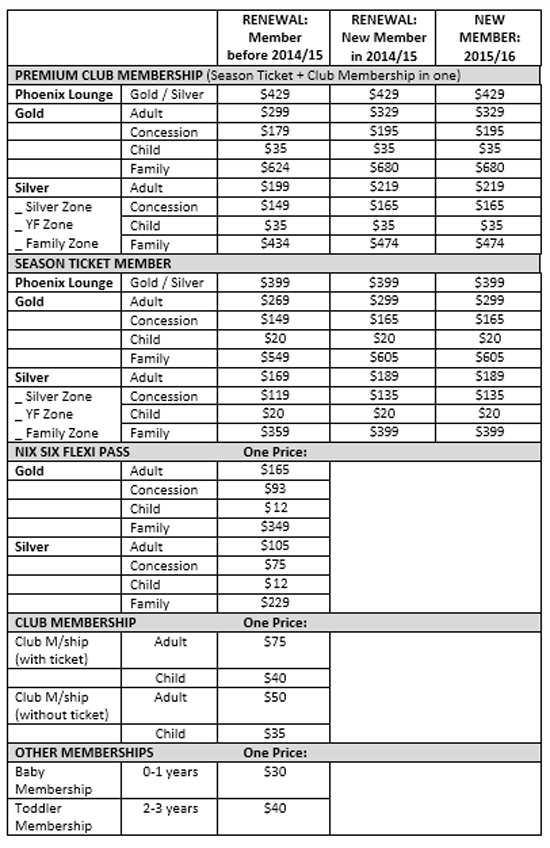 Click here to view the Phoenix Membership Packages 1516 Brochure (3MB PDF)