Huawei Business FC
Growing Partnerships, Celebrating Football
Join the Huawei Business Club and support the Wellington Phoenix. Enjoy a unique matchday experience with a host of entertainment benefits and connections.
The Huawei Business Club is your commercial connector. Membership facilitates invaluable links to business people from influential circles on gameday and throughout the year. The Huawei Business Club is an ideal platform for building better-connected business networks through the global reach of football and the Phoenix brand.
HUAWEI has been the Principal Partner of the Phoenix FC since 2012. The club is committed to engaging with the Australasian business community through the hosting of a series of premium events featuring high profile speakers and special guests. The membership includes access to a minimum of 3 exclusive events and up to 10 home matches per year.
Centre Circle Members Club
Our game and our club is able to grow with the ongoing support of many areas of the community. Wellington has many football supporters who are business owners, or who enjoy mixing sports with business and friends. Many of you are long-time supporters of the club, the players and the interests of football. If you have been looking for a way in which to attend the Phoenix matches with a point of difference, to actively support the club, then this is for you. Come on board and support the Nix!
By joining the Centre Circle Club, you will become a club member and a minor sponsor rolled into one. The annual membership is $1,750 + GST per person, or $3,200 + GST for two people, which covers access for all home matches at Westpac Stadium.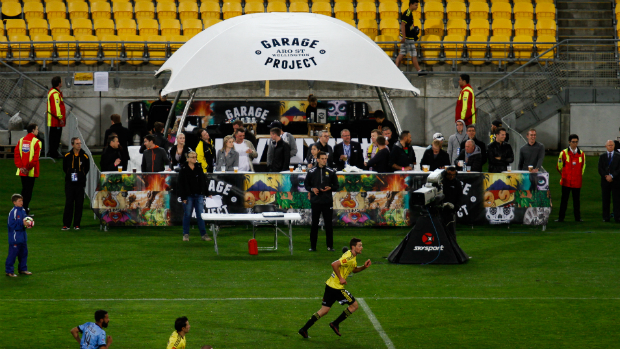 Garage Project Fan Zone
Get up close and personal with all the action!
Wellington Phoenix once again teams up with Garage Project to provide the Phoenix Fan Zone – the ultimate pitch side experience. This is your chance to join the players at ground level and experience the action alongside the pros. Cheer on the Nix with the best view in the house whilst enjoying some of Wellington's favourite craft beers.
Located at ground level in the unique stretch tent behind the southern goal, the Garage Project Phoenix Fan Zone is a perfect way to treat your staff to a well-earned day out, to reward or thank customers, or to get together with friends or teammates and enjoy an exclusive pitch side experience.
To register for any of the above hospitality packages, please contact:
Eddy Bramley – Commercial Executive